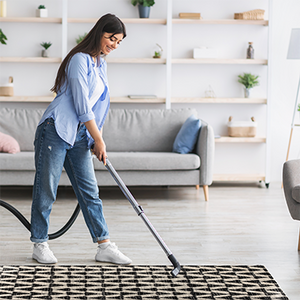 VACUUM REGULARLY
Use a quality vacuum without the beater bar setting as it can pull or snag. Vacuum high traffic areas more often. Rug shedding is common with some newer rugs but this will lessen over time with regular vacuuming.
SPOT CLEAN AS NEEDED
Clean spills immediately by blotting with a clean, dry white cloth. For hard to remove stains we recommend that the rug be professionally cleaned.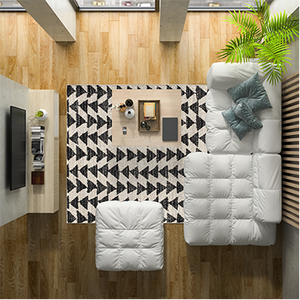 USE A RUG PAD
A non-slip rug pad's primary benefits are safety and cushioning. However, it also prolongs the life of your rug and makes it easier to vacuum.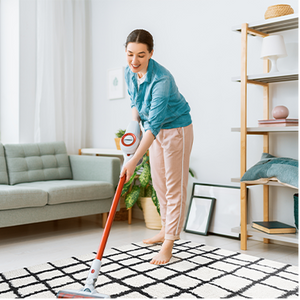 TAME THE SHAG
A great tip for cleaning a shag rug is to turn it upside down and vacuum the back with the beater bar setting. This will shake loose all the dirt and dust. Once done, move the rug and vacuum up all the dirt that came loose onto the floor.
Avoid direct and continuous exposure to sunlight. Use brushless vacuum. Remove spills immediately; if liquid, blot with clean, undyed cloth by pressing firmly around the spill to absorb as much as possible. For hard to remove stains, professional rug cleaning is recommended. Store in a dry, well-ventilated area.
THAT NEW RUG SMELL
It's natural for rugs to have an unusual scent the first few days, the result of being rolled tightly and encased in plastic for shipping. A little time and fresh air will neutralize any odors.

WAIT OUT WRINKLES
Packing and shipping may cause temporary creases in rugs, which will fold out after a week on the floor. To expedite the process, try backrolling your rug before laying it down, and then allowing ample time for the remaining creases to relax.

ROTATE FOR CONSISTENT WEAR
Rugs are meant to last a long time, but rotating can make the last even longer and will allow fading from sunlight to impact the rug evenly. Switch them up from room to room, so one rug isn't consistently in your higher-traffic locations.